Journal Entry:
Tue Feb 22, 2011, 3:49 PM
News : xxxxx

Digital / Computer Graphic
★
Encré/Tramé - Ink & tonesA
- Personnage + décor
- character + background
: 20€
/23$
+
- Personnage supplémentaire
- character added
: +10€
/+12$
A►
A+►
★
Couleurs - ColorsB
- Personnage sans fond (légère couleur ou transparent) -
simple character (no background)
: 20€
/23$
C
- Illustration complète
-complete drawing
: 30€
/34$
+
- Personnage supplémentaire (3/4 max)
- character added (3/4 max)
: +10€
/+12$
B+►
C►
C+►
Traditionnel

★
Sketch
- l'original vous sera envoyé si vous le désirez (France métropolitaine). Le tarif comprend l'envoi.
D
- un perso -
one character
: 15€
/18$
+
- 5€ par personnage supplémentaire, 3 maximum -
6$ each character added (3 max.)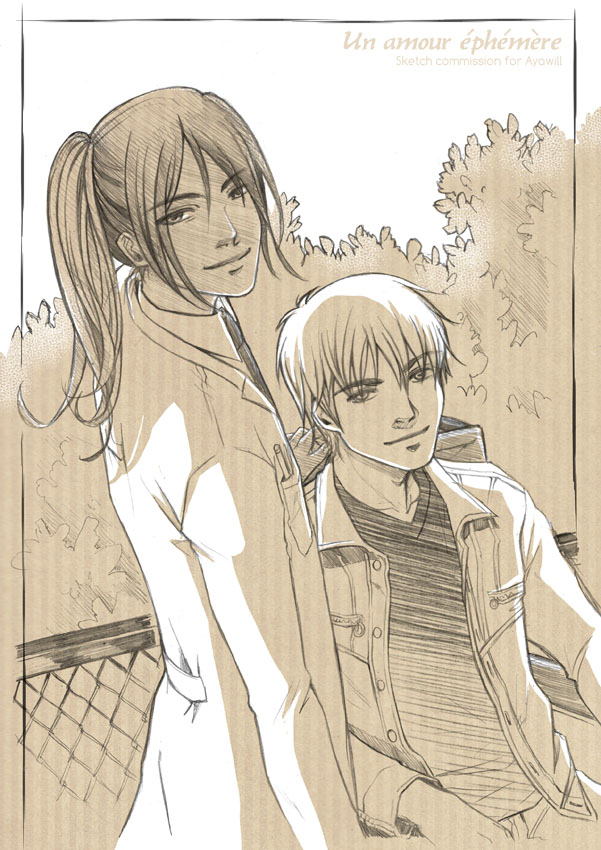 Le délai pour les sketches est de deux semaines environ.
Delay for sketch commission is about two weeks.
★
Encres colorées
ou
feutres
, format ±A4. - Markers or watercolours, ±A4 size.
E
- portrait/buste
portrait - waist-up
: 25€
/29$
F - Illustration plus complexe (pose, décor, 2nd personnage) : ±45€/52$
Extras
Commissions spéciales : plus de personnages, planches, lineart... Tarif en fonction de la demande à négocier.
★ Planches
- manga page
: à partir de 30€
/from 34$
★ Lineart à partir de 20€
/from23$
★ Plus de persos, en fonction...
- More characters, to discuss
...
• J'utilise Paypal pour les règlements en ligne via compte paypal ou carte bleue.
- I use paypal.
• Je vous envoie la demande de paiement à régler.
- I send you the payment request.
• Pour la France métropolitaine, le chèque (ou billet si précautionneusement glissé dans une feuille pliée) est aussi accepté.
Attention :
les frais de commissions Paypal ou de La Poste (pour l'envoi d'originaux) sont en supplément et à votre charge.
Warning : paypal fees or shipping will be yours and added to the commission price.
• Restrictions :
Je ne fais pas de fanarts, uniquement vos (ou mes) personnages.
Je commence vos commissions après paiement.
Sans suite après réservation au bout d'une semaine, cette dernière sera annulée.
• Limitations:
I don't draw fanart.
Commission is started after payment only.
Payment must be done in the week after I request it (or some news) or the slot will be canceled.
• Marche à suivre :
Envoyez une note ou un mail à doe.clover@gmail.com, informez le type de commission désirée et les informations suivantes : description physique du/des personnage(s), attitudes, vestimentaires, époque ou milieu si c'est important. Si vous avez des références graphiques c'est mieux. C'est encore mieux si vous avez une suggestion pour la scène que vous voulez voir représentée (description, ambiance, pose des personnages).
• Vous pouvez prendre une place et fournir les descriptions par la suite.
• Je vous soumets un sketch préalable.
• Je vous envoie le fichier en Haute Définition pour les commissions digitales qui vous permettra de les imprimer.
• S'il s'agit d'une commission en traditionnel, je vous envoie l'original. Les frais d'expédition supplémentaires sont de 2,75€.
• Temps de réalisation jusqu'à deux à trois mois.
• How to:
To take a slot, send me a note about the type of commission you want and informations : physical description of the character(s), time and background, description about clothes and attitude. If you have references, I like. If you have any idea about the drawing and composition, I like better.
• You can take a slot and give the informations later.
• I submit you a sketch.
• I send you the high quality printable image at the end.
• For a traditional drawing, I can send you the original piece. Shipping will be yours.
• Delay : to 2/3 months max.
Important :
Sauf accord, mes commissions sont pour votre usage personnel uniquement.
Important: Without agreement, my commissions are for a personal use only.
Si vous avez des questions, n'hésitez pas ici ou en note.
Any question? Comment or send a note.




: commission payée / slot paid



: commission en cours / commission started - in progress



: commission en attente de validation / commission submitted
★
COMPUTER GRAPHIC



-
Kantashiro



-
Shyrinia



-
Antimonesia
★
TRADITIONNEL



-
Kantashiro



-
Ruri-dere
Merci aux valeureux commissionneurs

qui ont accepté de jouer les crash-tests de mes expérimentations !!
Thanks to all my commissioners who thrusted me and gave me the opportunity to improve with their babies ♥
Vous pouvez accéder à la galerie des commissions déjà réalisées en cliquant
ici
.